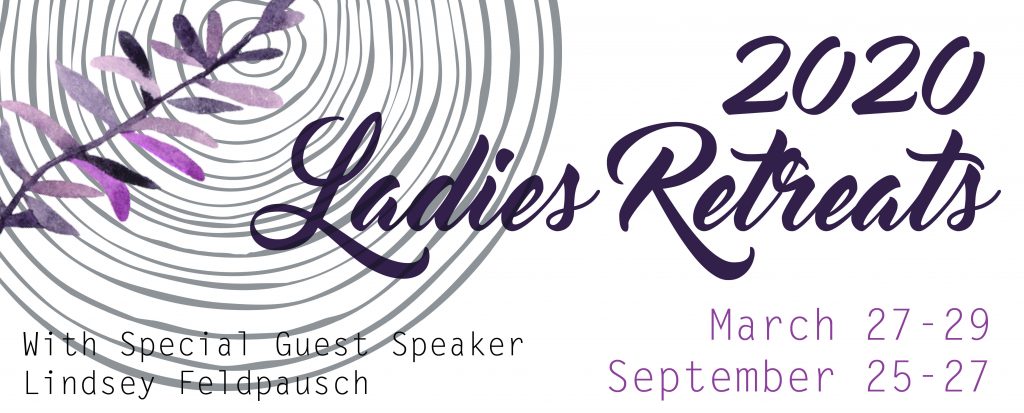 The Springs Ministries Ladies' Retreat is a relaxing weekend full of challenging chapels with an engaging speaker, fun activities, delicious meals, and time to simply hang out with other women. Come and enjoy opportunities to grow in your faith as you walk alongside other women. As the weekend progresses, you and your group will have opportunities to engage in camp activities such as zipline, the Shute, a pajama party, crafts, a weekend long spoons tournament, as well as grabbing coffee from our in-house coffee shop! Take a walk in our beautiful woods, spend time by yourself, and disconnect from the business of everyday life as you spend time filling yourself with God's Word and fellowship with other ladies.
Friday night arrival: New this year, the retreat will begin on Friday evening and end with Sunday lunch. Check in is from 4-7 pm on Friday. A sack lunch will be available for pick up around 11:45 on Sunday morning. You can be packed and ready to go and headed home by noon.
Optional Friday dinner is a unique opportunity to visit an area Amish home and enjoy a country dinner! Sign up is required one week prior to the event. (March 20 or Sept 18). Cost for the dinner is $15 per person. We will load the bus at 4:40 pm, dinner will be served around 5:15 pm. We will board the bus again around 6:30 pm and arrive back at The Springs for chapel by 7:15. Chapel begins at 7:30 pm.
Cost of the retreat is $120 which includes overnights, linens, meals and activities.
Commuters- $90 includes all meals and sessions, just no overnight accommodations
High school students (with mother or mentor) $100
Don't forget some spending money for the camp store, take home a gift for your kiddos, or a new sweatshirt for yourself!
$50 holds your spot, balance is due when you arrive, this is non-refundable but is transferable to another guest.
What to bring:
Bible, notebook
spending money for camp store and craft ($2-40)
fun (modest please!) pajamas for our late night pajama party!
toiletries
clothing for various weather!
a friend
Lindsey Feldpausch writes, speaks and enjoys sitting in the corner pocket of the sectional. She lives outside of Grand Rapids with her husband, who is an associate pastor, and four children, who are associate producers of all things unpredictable. She currently works in customer service at GEMS Girls' Clubs ministry. She likes spending time in the garden or on the Musketawa trail, or inside the middle of scripture that's saying something never said before. She believes God is always good, grace is the sweetest gift and our current sufferings aren't worth comparing to the glory that is on the way.